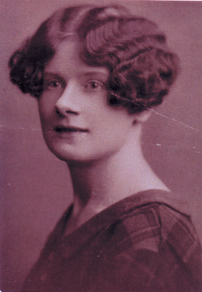 Dorothy Irene (Kilburn) Churchett at age 21

Dorothy Irene

Kilburn

, daughter of

Albert Edward Philip

Kilburn

and

Ida Martha

Warren

, was born on 4 May 1902 in Upper Tooting, South London, England.

Dorothy Irene Kilburn was a member of the Church of England.

The family had a white cat named Bessie. When it was nearly time for the children to come home from school, Ida would tell the cat that the children were about to come home, and she would trot off to the school gate to meet them.1

After school, Dolly went home quickly (her mother used to tell her and her sisters not to hang about after school and to come home in a group to avoid being taken by white slavers). Her job every afternoon was to go down to the baker's just before they closed for "happorth of stale bread". This was bread the baker would not be able to sell and was therefore cheap. She also had to get the fruit and vegetables, and her Mum told her to always insist "not to have too many squashy ones" when buying tomatoes.2

Dolly's grandmother had emigrated from Ireland. Her grandfather had been a miller until he became too old for the heavy work, and then he had sewn sacks for the flour. When he became too old to do that, he had to go into the workhouse. This was situated opposite what is now the entrance to Blackwall Tunnel. (It later became a hospital but has now been demolished.) Her grandmother looked after the toll-gate that was situated where the Bow Flyover now stands.

Visiting her grandmother meant a bus journey and then some hard work, but Dolly always enjoyed it. She would take a bus from where she lived (possibly in Balham) to the Blackwall Tunnel, and then her grandmother's maid would meet her off the bus and walk back with her to the house. The streets were not safe for young people even in those days; this would have been before the First World War, probably around 1910 to 1914, so Dolly would have been somewhere between eight and twelve years old.

Once at her grandmother's house, Dolly used to have to black-lead the stove. It was one of those large old-fashioned ones that doubled up as a fire (Dolly had one at her own house in Manor Park as an adult until well after the Second World War). But tending to the stove brought its own rewards, as her grandmother made excellent stews. She had a stockpot that was always on the stove, and any remains of meals, meat, and vegetables went into it and simmered continuously. Dolly's son Colin always thought that his mother was a good cook, and she said she learnt how from her grandmother.1

When Dolly was in school, children were able to leave school at the age of 14 rather than 16 as it is today--but you had to stay until you reached that age. Children who completed the curriculum early had to remain and do the final year over and over again. Dolly had completed her studies by the time she was 11, so she had to spend the next three years helping the younger children with their lessons and sewing garments for the teacher, which she hated. Boys and girls received separate instruction in those days, and Dolly was always indignant that the boys did geography and science, but the girls were not allowed to take those subjects.1

After leaving school, Dolly took a job in a garage as a shorthand typist. She never did learn how to drive.1

On 31 May 1916, her brother

Albert Leonard

died. He was killed in the battle of Jutland; he was only seventeen years old.3

After the Hammersmith Palais opened in 1919, Dolly used to go dancing at it--but not too often because "razor gangs" were about and the streets were not too safe for young women.1

She may be related to

Aunt Maud

(--?--)

as that is what she calls her in her personal datebook, but I do not know whether this is an aunt or great-aunt, nor do I know whether the relationship comes through her mother's or father's line.4

On 1 June 1929, Dorothy Irene Kilburn married

Frederick Charles

Churchett

, son of

George Charles

Churchett

and

Annie Mary

Dunford

, in South London, England.



She may be related to

Cousin Bert

(--?--)

as she refers to him in her datebook as "Cousin Bert", but I do not know whether he is a first cousin or a more distant relationship, nor do I know whether they are cousins through her mother's line or her father's. Bert did serve as godfather to Dorothy and Fred's son Brian.6



Fred

and Dolly had a son,

Brian

, on 26 January 1935 in Lewisham, London SE13.

In the late 1930s, her husband Fred was made redundant. He heard about a job going in the Co-op Undertakers and walked all the way from Bromley to Manor Park to try for it--there was not enough money for him to take the bus. It would have taken him some hours to walk it . . . but he did get the job.1



Fred

and Dolly had a son,

Colin

, on 3 May 1940.7,8

Eventually Dolly and Fred were able to find a house to rent on School Road in Manor Park, a bit closer to his job. Unfortunately, the house fell victim to an air raid in 1941. It happened about lunchtime while Fred was away, and Dolly took the children out to the Anderson shelter in the garden. When the house collapsed, rubble covered the shelter and the family was unable to get out until some hours later when Fred was finally able to return home and dig them out. Dolly could hear Fred's voice speaking to them as he was trying to clear a way for them to emerge. After that the family was housed in Cornwall School for a time. Fred had to go to work during the day while Dolly looked for another house to rent. This she found on Third Avenue. They were unable to save much from the house on School Road, but families who were bombed out were given a three-piece suite [a couch and a couple of chairs]. (Sixty years later, their son Colin still had--and was using!--the suite, which he said had lasted well over the years; his nephew Dale, however, described it as "hard as a rock".)

The family ate very healthily during the war, contrary to what one might imagine. Fred had an allotment on Wanstead Flats, and when the vegetables were ready for picking, the men took turns at night guarding the allotments. Even in wartime, there were people who would steal almost anything. Although meat and eggs were hard to come by, the family made do with root vegetables, potatoes, carrots, cabbage, rhubarb (which son Colin despised) and parsnips and swedes. They also had plenty of apples and pears. They could have had rabbit, but Dolly didn't like it, so it never appeared on the table. Another casualty of their diet was sweets and chocolates.1

She may be related to

Uncle Charlie

(--?--)

as that is how she refers to him in her personal datebook, but I do not know whether this is an uncle or great-uncle, nor do I know whether the relationship comes through her mother's or father's line.9

She may be related to

Aunt Bet

(--?--)

as that is how she refers to her in her personal datebook, but I do not know whether this is an aunt or great-aunt, nor do I know whether the relationship comes through her mother's or father's line.10

On 17 February 1972 her husband

Fred

died at age 65 in England, leaving Dolly a widow at 69 years old.11

Dorothy Irene Churchett, along with her son

Colin

Churchett

, moved on 28 September 1976 to at 39 Belmont Close, Wickford, Essex, SS12 OHR, from Manor Park.11

Dorothy Irene Churchett died on 17 June 1990 at Mayflower Hospital in Billericay, Essex, England, at age 88.12 She was cremated.

The following names appear in Dolly's datebook and may be relatives, or they may be simply friends, neighbors, or colleagues:

Susan Arnopp (born 5 March 1948, lived at 12 Pladstone Rd, E6)
Anne Arnopp (married 4 May 1963; had a son, Mark, on 30 October 1963)
Mark Arnopp (born 30 October 1963)

Kathleen Hoskins (born 17 December 1941)
Mary Hoskins (died 7 October 1969)

Wendy & Barry (possibly married 22 April 1970)--is this possibly Wendy Rogers, who had a son Dean Paul two years earlier on 12 August 1968?)

Bob Colms (married 12 April 1975)
Terry ? (possibly born 22 April 1970)
G. Waricker (died 24 May 1951)
K. Hyde (married 19 July 1966)
Peter Mathews (drowned in France on holiday, 20 July 1964)
Tommy Kane (born 8 December 1932).11


There is an entry in Dolly's datebook for a "Mum K passed away 1869 1945" on 12 April--Brian and I are completely at a loss to determine who this lady is. It's not her mother, as she died in 1960 as noted in a separate datebook entry. It's not her mother-in-law, as she died in 1965 and her death is noted in the datebook as "Fred's mum died...". Her mother's mother would be a Warren, not a Kilburn, so it couldn't be her. And her father's mother couldn't have been born in 1869 as her father was born in 1875 according to his birth certificate. It seems strange that it's not her father's mother, as she apparently refers to her father as "Dad K" in the 31 May entry. So . . . Brian is going to check the datebook to confirm the decade in the "1869" part of the entry.